Are you looking to install a new garage door or replace an existing one in your Media, PA home? Suburban Overhead Doors is here to help. As the leading garage door dealer, installation, and repair company in the Main Line, Suburban Overhead Doors offers a vast selection of the best garage doors on the market.
No one wants to deal with a broken and outdated garage door. Garage doors are an integral part of any home as it keeps your cars and family sheltered and protected. Not to mention that your garage doors are one of the most prominent features of your home, being the first thing that people see when they pull into your driveway.
Because of this, replacing your old garage door with a brand-new one is a quick way to boost the curb appeal and property value of your home, and our highly trained and experienced garage door technicians can ensure that your new garage door will last for years to come.
You do not have to be content with your subpar garage doors. Suburban Overhead Doors, makes it simple and easy to get your new garage door installed quickly and reliably.
Why Suburban Overhead Doors is the Best Garage Door Dealer in the Main Line
Suburban Overhead Doors has been selling and installing new garage doors in and around Main Line, PA for over 30 years, and in that time, they have gained the invaluable experience that has allowed them to leave their mark on countless homes throughout the area.
Their knowledgeable team of professional garage door technicians is highly trained and has tons of experience, allowing them to install and repair garage doors in the most efficient and effective manner possible.
As the leading garage door company in the area, Suburban Overhead Doors prides itself on providing excellent service that other garage door companies and contractors just cannot match, and they will not stop until they have done a fantastic job with your garage door project, leaving you completely satisfied. So if you need a new garage door or any other garage door services, you can trust Suburban Overhead Doors to get the job done right.
The Largest Selection of Garage Doors & Garage Door Openers in Media, PA
Buying a new garage door is a big deal, and though it is incredibly important that it functions properly, it is also essential that your new garage door looks good and compliments the rest of your home.
No matter what look you are going for, there is no doubt that you will be able to find your perfect new door at Suburban Overhead Doors. They have a wide variety of new garage doors to choose from, including everything from more standard overhead garage doors to more elegant carriage garage doors, all of which come in a variety of colors, materials, and finishes.
With the largest selection of new garage doors in Media, PA, and experienced dealers who can walk you through the pros and cons of each one, there is no better place to buy a new garage door than Suburban Overhead Doors.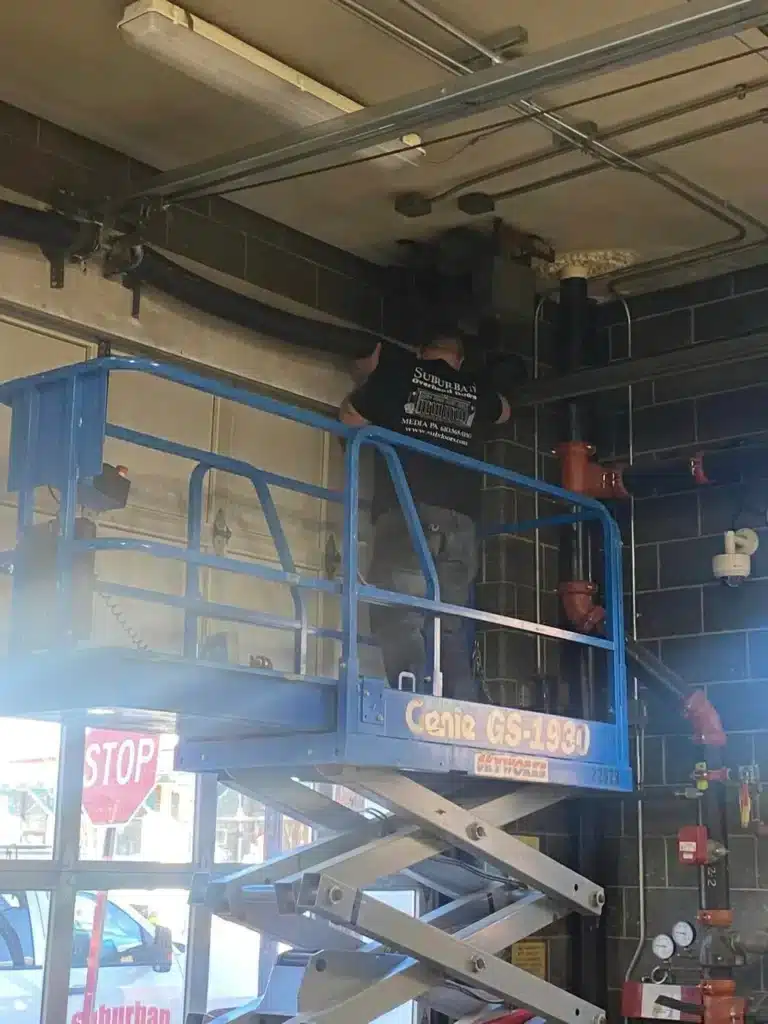 Professional Garage Door Installation
Suburban Overhead Doors is not just made up of garage door dealers. They offer their own professional garage door installation services so that when you buy from them, you will never have to worry about getting an outside contractor to come finish the job.
Their garage door installation technicians are highly skilled and have extensive industry experience that allows them to work quickly and efficiently to ensure that your newly installed garage door continues to function properly for years into the future.
Convenience is key, and their team does not want to be in the way of you and your family for too long, so they will make sure to schedule a date and time that is most convenient for you so that we can get in and out with as little disruption as possible.
So, when you need to buy a new garage door and get it installed quickly, give the experts at Suburban Overhead Doors a call.
Reliable Garage Door Repair Services
Suburban Overhead Doors also offers top-of-the-line garage door repair and maintenance services for homeowners who want to make sure their garage doors are always in pristine condition. Properly maintaining your garage doors is essential if you want to avoid costly repairs in the future, and eventually, parts like springs and brackets can get bent, break, and need to be replaced.
Whether your garage door just needs a simple repair or a complete replacement, Suburban Overhead Doors is the garage door service that you can count on for all your garage door related needs.
Quick and Easy Garage Door Opener Installation
They do not just stop at garage doors. They install garage door openers too. While garage door openers are more common in newer garages, older ones tend not to have them, which creates a big inconvenience every time you want to pull your car into your garage.
No one wants to have to get out of the car to open their garage door by hand when you could have a button in your car that does it for you, and Suburban Overhead Doors makes it easy for homeowners to get garage door openers installed in new and old garage doors alike.
No matter how used to getting out and opening your garage door by yourself you are, when they are done with your garage door opener installation project, you will wonder why you did not call them years ago.
Contact Suburban Overhead Doors Today
Are you thinking about upgrading your garage doors? Give Suburban Overhead Doors a call, and they will gladly answer your questions and lay out the options you have. They will even schedule a free estimate and consultation with a live person at your home so that they can get a better idea of your needs and you know exactly how much your next project will cost.
Do not let yourself be happy with a subpar garage door. Call Suburban Overhead Doors and get started on your next garage installation project today!