GARAGE DOOR EXPERTS IN NEWTOWN SQUARE, PA
We're proud to offer
garage door services to Newtown Square, PA
, and the surrounding area. We love our community and want to give back by not only providing exceptional customer service but also educating our customers on how to keep their garage doors running smoothly for years to come.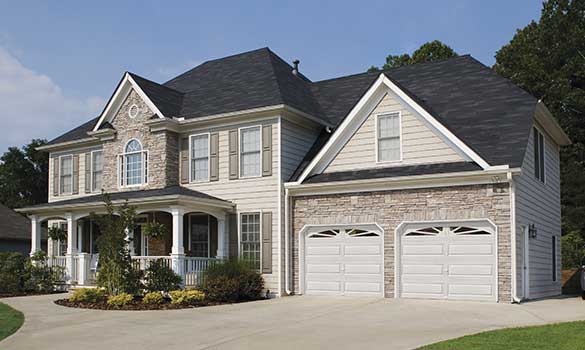 We at Suburban Overhead Doors know how important garage doors are for your home. In addition to serving your everyday needs, they also add curb appeal and elevate the look of your whole property. Trust our specialists to help you find the perfect door for your needs and budget. When it comes to designing and installing garage doors in Delaware County, Pennsylvania, no one has the experience and expertise of Suburban Overhead Doors! For more than 30 years, our team has helped home and business owners with their
garage door installation
needs. Regardless of the size or difficulty, our team is happy to help with your project.
Garage Door Service & Repair
There's no good time for a garage door to stop working. Whether your door was damaged and no longer works or you're unable to determine the cause of the issue, count on Suburban Overhead Doors to provide expert
garage door service
and repair. Our team is equipped with the equipment to diagnose and repair your door.
Got Broken Garage Door Springs?
We repair all makes and models of broken garage door springs. If your garage door is stuck and won't come up, but your motor and transmitter are working properly, then you could have a broken garage door spring. If your garage door is making a loud noise when it is being opened and closed, this could also mean your garage door spring is faulty. Replacing your garage door spring should always be done by a professional, so contact us right away to repair your broken garage door spring.
3 Signs that Indicate you May Have Broken Garage Door Springs
Your garage door's springs can hold up to 800 pounds, and are responsible for performing its heavy lifting. Strenuous activity can take a toll on your springs, and can cause them to wear out over time. How can you know when your garage door springs are failing? Here are some signs to look for.
Call us for Your Garage Doors in Newtown Square, PA
Suburban Overhead Doors is your go-to contact for all things
garage doors in Newtown Square, PA!
If you have any questions or concerns about your garage door, please
contact us
. We'll perform an inspection and get your garage door back in top shape again.
Frequently Asked Questions
This section has been created to provide you with comprehensive answers to the most common questions regarding garage door repair, in Newtown, Square, PA.
Whether you need new doors, garage door openers, or repair service, we have the information you need to make informed decisions.