GARAGE DOOR SERVICE IN WAYNE PA
Do you need to update your home or business's
garage doors in Wayne, PA
? Make sure you work with a contractor that can remain within your budget while also offering top-quality products. At Suburban Overhead Doors, our team is committed to helping customers find the best garage door for their specific needs. We've been helping the area for more than 30 years, so you can trust us to get the job done right!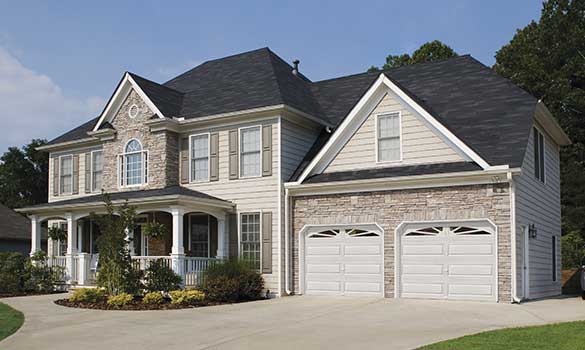 Garage Door Repairs in Wayne PA
If you notice any of the following symptoms, your garage door may be in need of repair:
Your garage door is slow: One of the first signs you should look out for that can indicate problems with your garage door in Wayne, PA, is if it is taking longer than normal to open, as your garage door should typically start opening within a second or two of you pressing the opener, and it should then open smoothly. If your garage door does not start opening for a few seconds, there may simply be something wrong with your garage door opener that is causing a delay.
Your garage door is noisy: While garage doors tend to start making more noise as they age, you may have cause for concern if it begins making excessive noises suddenly and/or if your garage door sounds like it is creaking or straining when opening. These unusual sounds likely indicate a mechanical problem with your garage door, and if you ignore the problem, your garage door may fail altogether.
Your garage door doesn't open Your door may be locked. A blinking light on your door open button will indicate this. Depress the lock/unlock button until the blinking stops. If the motor runs but the door doesn't move, check to see that the safety release (red pull cord) hasn't been released. Some motors automatically re-engage it, while others require a manual re-engagement. If the motor labors hard but is barely or not opening the door, then you may have a broken spring. Release the door from the trolley by pulling the safety release pull cord and try to manually open the door. The door should open easily if your springs are in good condition. If the door feels very heavy, then the garage door spring is likely broken. Never attempt to replace springs because they are very dangerous.
Garage Door Installation Wayne PA
We are the industry leaders in
garage door installation in Wayne, PA
. We only install properly functioning, long-lasting garage doors that are reliable and secure. We only install garage doors from industry-leading manufacturers at competitive pricing. We will also help you select the door that best suits your needs. We have many different products in various styles, including carriage house doors, custom wood, insulated, sectional, and more! If you need a garage door installation in Wayne, PA, look no further than Suburban Doors!
Reasons to Install a New Garage Door in Wayne PA
When it comes to owning a garage, too often, people overlook the door. However, a garage door does more than keep your garage protected from the elements and your vehicles safe. Here are 3 facts you might not know about it.
Learn More About Garage Doors in Wayne, PA
We're proud to offer our clients, both residential and commercial, a variety of options in garage doors. From carriage house to custom wood to rolling steel, our wide selection is sure to have something for your needs. At Suburban Overhead Doors, our experts can handle all aspects of the job, from the design, installation, and repair. To learn more about how our team can help you, and to receive an estimate on service, give us a call today!
Need to Repair Your Garage Doors?
Wayne, PA, Residents Can Count on Our Services!
At Suburban Overhead Doors, we place great emphasis on quality workmanship and exceptional customer service. Learn more about garage door services in Wayne in the FAQ section below.