Functional and done right garage doors are an essential part of any home, but if not installed properly, you can end up with a lot of problems down the road. When you are having garage door troubles or thinking about installing new ones, you need a reliable garage door company that you can trust to do an excellent job every time.
That is where Suburban Overhead Doors comes in. With more than 30 years of experience offering high-quality garage door services out of Media, PA, Suburban Overhead Doors is the most trusted garage door company in the PA Main Line.
Whether a new installation or routine maintenance, our extensive experience and knowledge allow us to quickly address your garage door problems and give you the gift of a garage door that is sure to last for years to come.
We have tried and true methods and techniques that we believe are the keys to our success. So here is everything we think you need to know about what needs to be done right with garage doors.
A Garage Door Needs to Be Installed With Care
New garage door installation is a complicated process with lots of moving parts and a number of steps that can take hours of careful work to ensure success. No one wants to pay a bunch of money for a garage door that starts breaking down a month later, but if you had your garage door installed by a lesser known garage door company, you may be in for a costly inconvenience.
Everything from the smaller parts like springs, cables, hinges, rollers, and electronics to the garage door itself needs to be meticulously installed to exact specifications to ensure that everything works properly now and continues to do so far into the future.
Here at Suburban Overhead Doors, we have installed thousands of garage doors all over the Main Line, so the steps of this process are second nature for us. No matter what new garage door you want to install, you can rest assured that we will complete the project with a level of care that no other garage door companies can match.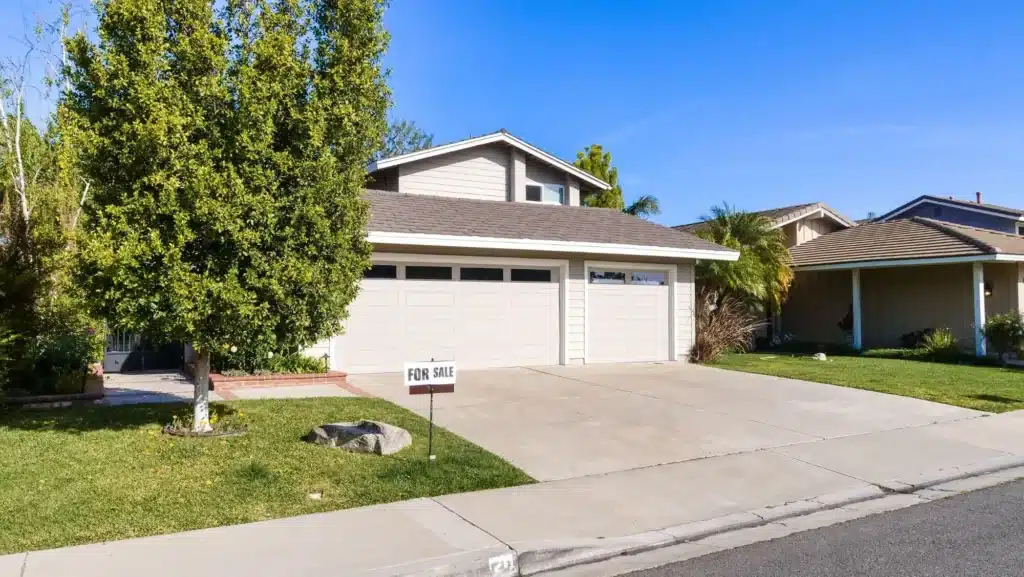 A Garage Door Needs to Complement Your Home
Garage doors are some of the most prominent features of a home. They are often one of the first things people see when pulling up to your home, and therefore, it is very important that your garage doors look good and leave a positive impression on anyone who happens to visit.
When choosing a new garage door, it is crucial that you choose a color and style that complements the other elements on and around your home. If you want your home to have as much curb appeal as possible, you will have to view your new garage doors as more than just garage doors, but a cohesive element that blends in and improves the overall look of your home.
Luckily, with tons of color, finish, and style options to choose from, it is easier than it has ever been to find a new garage door that ensures you achieve the look you're going for. You can even consider adding carriage doors that swing out, unlike the more common overhead garage doors, which can add a more rustic and old-fashioned feel to your home.
But still, if you are unsure about what will look good and are stuck between choosing an overhead door or carriage doors, the professionals here at Suburban Overhead Doors are always here to help.
A Garage Door Opener Needs to Be Functional and Secure
No garage door is complete without a functional and secure garage door opener. After all, no one wants to get out of their car just to open their garage door by hand and get right back in every time they pull into their driveway.
There are a number of different types of garage door openers, but the type you choose will largely depend on your personal preferences. In the end, all that matters is that your garage door is secure and the garage door opener works every time.
We would never promote a product that we do not feel is good enough to install in our own homes, and we take pride in offering only the highest quality garage door openers to our clients. So, no matter if you want to install a new garage door opener or replace an old one, you can rest assured that it will be as durable, long-lasting, and safe as possible.
A Garage Door Needs to Be Properly Maintained to Prevent Garage Door Repair
As with anything, a garage door needs to be properly maintained to continue functioning as it should. All of those moving parts need to be routinely inspected to make sure that they are working correctly and don't require repair.
In the case that a part like a garage door spring is broken, you should do your best to repair the part as quickly as possible, as broken parts can cause the other parts of a new door to get worn and break down faster than they should.
Suburban Overhead Doors offers professional garage door repair services and routine maintenance services that will help keep your new or old garage door in pristine condition for as long as possible.
Contact Suburban Overhead Doors Today!
Do you want a new garage door or need reliable garage door service to repair and maintain your current one? Then take out your phone and give Suburban Overhead Doors a call today!
As the only garage door installation and repair company in Media, PA, we are proud to offer residential homeowners all over Main Line, PA, the highest quality professional garage door services around.
We can handle all your garage door-related needs, including garage door installation, garage door repair, and garage door openers, and we promise to always get the job done right and at a reasonable and fair price. After all, how else could we gain such a great reputation for providing excellent service?
No matter what your garage door needs, give us a call, and we will set you up with a free estimate and consultation with a technician so that you know exactly what needs to be done to your garage door and how much it will cost. So do not settle for a subpar garage door. Call Suburban Overhead Doors today!