Are you planning on replacing your old garage door with a beautiful new one? Then you have come to the right spot. Suburban Overhead Doors is the leading garage door sales, installation, and repair company in Wayne, PA, offering a vast selection of high-quality garage doors that can instantly boost your home's curb appeal.
Garage doors are some of the most essential parts of any home. Not only do they act as a barrier that keeps your car and the rest of your home's interior safe, but they are also one of the most instantly noticeable parts of a home, often being the first thing you and your guests will see when pulling up. This means that it is crucial that your garage doors not only work properly but also look good and complement the rest of your home.
No one wants their home's visual appearance to be dragged down by an old, outdated garage door, and you especially do not want to have to deal with the inconvenience caused by one that is broken. So, if your Wayne, PA home's garage door could use an upgrade, let the experts at Suburban Overhead Doors help you find a new garage door that will make your life easier and your home look great.
A Huge Selection of the Best Garage Doors Wayne, PA Has to Offer
Here at Suburban Overhead Doors, we know that every home is different, and every homeowner has their own stylistic preferences, which is why we have worked so hard to be able to provide a complete range of garage doors that make it as easy as possible to find the perfect garage door for you.
We have a wide variety of different types of garage doors to choose from, including standard sectional garage doors, space-saving roll-up garage doors, and elegant carriage house doors that all offer their own benefits and visual style, but we do not just stop there.
We also offer garage doors made from all sorts of different materials, from more traditional steel and aluminum to fiberglass and wood, all of which come in a variety of different colors and designs, so no matter what vision you have for your garage, you will be able to find the new garage door that brings it to life.
Our Comprehensive Garage Door Services
We do not just have the most complete selection of garage doors Wayne, PA has to offer. We also provide homeowners with a full range of garage door services tailor-made to meet the varying needs of homeowners all over southeastern PA.
Professional Garage Door Installation
We know that offering a huge selection of new garage doors is just the first part of the job, so once you have picked out your perfect new garage door, we will schedule a convenient time to come to your home, remove your existing garage door, and replace it with the new one.
Every single Suburban Overhead Doors garage door technician is an expert on all the garage doors we offer, allowing you to rest assured knowing that your new garage door will be installed correctly and will continue to function without any problems for years to come.
New Garage Door Openers For Existing Garage Doors
Though most new garage door systems get installed with garage door openers from day one, it is not uncommon for older garage doors to lack this convenient feature. Still, you probably do not need to install a whole new garage door if you do not want to.
No one wants to get out of their car to open their garage door themselves whenever they want to park, and with our convenient garage door opener installation service, you will not have to. We make upgrading your existing garage door quick and easy to make it as convenient as a brand-new system, all at a great price.
Reliable Garage Door Repair Wayne, PA
Even the best garage door will break down and need to be repaired eventually, and when that happens, Suburban Overhead Doors is here to help. Our fast and reliable garage door repair service can get your broken garage door back up and running in no time.
Garage door systems can be complicated, but our top-notch garage door repair technicians have the knowledge and experience necessary to quickly diagnose the problem and come up with a long-term solution that ensures the issue will not come back any time soon.
Whether it is something small like a few broken garage door springs that require only a simple repair or a more complex issue that requires multiple replacement parts, our technicians are well-equipped to fix it. We even offer emergency same-day service, so you will never have to be without a working garage door for long.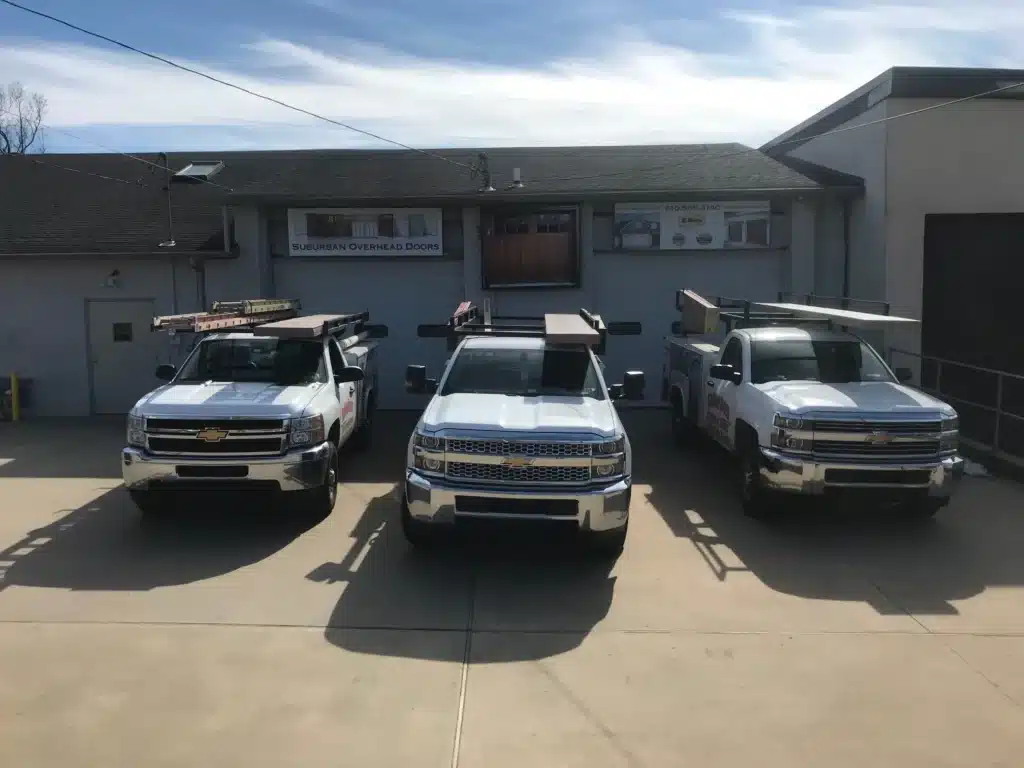 Contact Suburban Overhead Doors Today
Are you looking for the best comprehensive garage door service in Wayne, PA? Look no further than Suburban Overhead Doors. Whether you want to install a garage door opener, repair an existing garage door, or find the perfect new garage door to bring your home's curb appeal to the next level, we are committed to providing a level of service that other garage door companies just cannot compete with.
So, if you are thinking about starting your next garage door project, give us a call, and we will set you up with a free estimate and consultation so you know exactly what your best path forward is and how much it will cost. Do not let yourself be content with a subpar garage door. Call Suburban Overhead Doors and get the garage door you have always wanted today.