GARAGE DOORS IN GARNET VALLEY, PA
There are a lot of local
garage door service
companies in Garnet Valley PA and the areas surrounding it, so choosing the right one for you can be tricky. It's normal for potential customers to wonder if a particular company is trustworthy or has enough experience. Price is also a factor and matters to every customer. After all, everyone wants to get the most out of their money. It is also important that the contractor you choose offers good customer service.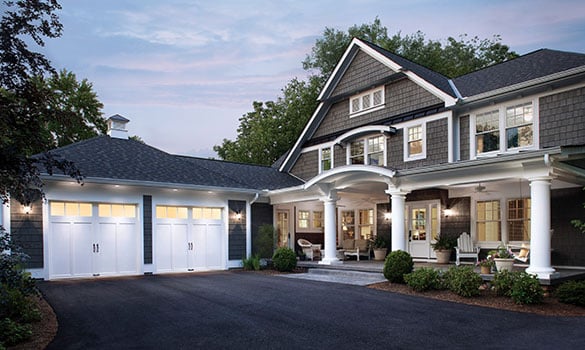 When you call Suburban Overhead Doors you can expect outstanding customer service, the highest quality products, professional installation, and timely service. We have been designing, installing, and repairing garage doors for over 30 years. With every job – whether it's installation, maintenance or serious repair – our service can't be beat! Our technicians are dedicated to answering any questions you might have about what will be done to your home, and what it means for you as far as price and what you'll get for your money.
Common Garage Door Problems in Garnet Valley, PA
We take our garage doors for granted until they stop working. A broken garage door is more than an inconvenience, it's a security problem. Having to leave your garage door open or partially closed because you have to get to work is an invitation for thieves. Fortunately, many of these problems can be readily fixed with just a bit of know-how.
Broken Garage Door Spring
If the motor labors hard but is barely or not opening the door, then you may have a broken spring. Release the door from the trolley by pulling the safety release pull cord and try to manually open the door. The door should open easily if your springs are in good condition. If the door feels very heavy, then a spring is likely broken. Never attempt to replace springs because they are very dangerous.
We at Suburban Overhead Doors know how important garage doors are for your home. In addition to serving your everyday needs, they also add curb appeal and elevate the look of your whole property. Trust our specialists to help you find the perfect door for your needs and budget. When it comes to designing and installing garage doors in Delaware County, Pennsylvania, no one has the experience and expertise of Suburban Overhead Doors! For more than 30 years, our team has helped home and business owners with their garage door installation needs. Regardless of the size or difficulty, our team is happy to help with your
garage door installation in Garnet Valley, PA.
Garnet Valley, PA Garage Doors
If you're experiencing a problem with your door, you can count on Suburban Overhead Doors to fix any issue you may be experiencing. With over 30 years of experience serving the Delaware County area, we have seen it all. From broken springs, to damaged pannels, from emergency service to preventative maintenance, we have you covered! Our team of skilled technicians service all makes and models of garage doors and openers. Don't wait, give us a call and one of our experienced technicians will arrive on-site to identify the cause of your problem and get your door operating as good as new.